Activities
So much more to do on the West Coast - activities in and around Paternoster
Souvenir hunt
A number of little souvenir shops are waiting to be discovered by you in Paternoster for every taste and every pocket … and every suitcase.
Horse Riding
Ever wondered how it feels to go horseback along the beach and galloping in the water edge of the Atlantic Ocean? Yes, then you'll be in for a ride with Ronel Basson (Drikus Horse Riding), cell 082 748 5596, maybe even for a sundowner ride …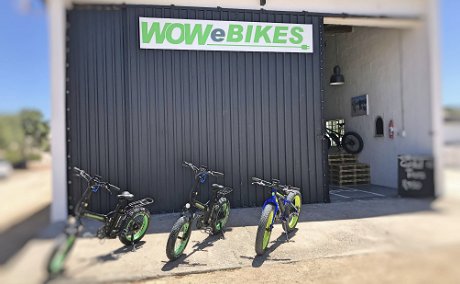 WOW eBikes
Enjoy the experience of a lifetime and ride a WOW eBike along the breathtakingly beautiful beach or exploring the magnificent Cape Columbine Nature Reserve.
Contact: [email protected] or call Danie 0828983028
Bird Watching
The West Coast is a bird watchers must to go!
Discover a number of the 225 bird species of this area. Enjoy the variety of birds in the landscaped garden, i.e: Wagtail, Fiscal Shrike, European Starling, Red Bishop, Pied Kingfisher, Palm Swift, Cape Turtle Dove, Rock Pigeon, Greater Ketrel, Pygmy Falcon, Steppe Buzzard, Helmeted Guineafowl, Secretarybird, Spotted Dikkop, Korhaan, Crowned Plover, Egyptian Goose, Bokmakierie, Grey Heron, Blackeyed Bulbul, Yelloweyed Canary, Cape Weaver, Cape White-Eye, Malachite Sunbird, Lesser Doublecollared Sunbird, Barn Owl, Cape Spotted Owl, ...
Tell us once you have spotted some others! More info West Coast Bird Club 082 571 6367
Golfing
Book your tee off time at ie Vredenburg Golf Club (approx. 17 km away) which is renowned as being one of the best in the district. It is a 9-hole golf course with 18 different teeing areas which allows one to play 18 holes of golf. Other golf courses are at Shelly Point (approx. 20 km away), Velddrif (approx. 35 km away), Saldanha Acadamy (approx. 22 km away) or Langebaan Country Club (approx. 35 km away).
Beauty
How about a new hair-do?
Make an appointment with Hennie at Salon Le Notre Père 071 978 0258 or [email protected]
Art Work and Antiques
The Stone Fish Art Studio artist Dianne Heesom-Green: "Clay is of the earth and can change its costume depending on the stage setting. Clay is responsive to the inner state of the maker; while being moulded, it moulds the maker". You can watch her at work in her studio in St Augustine Rd or book a workshop. More info 082 824 8917 or [email protected]
The actor and artist At Botha is also famous for his paintwork. Visit At Botha Gallery in 54 St Augustine Rd or book a painting holiday in Paternoster. More info 082 901 1353 or [email protected]
Patina Bazaar is next to At Botha Gallery and offers a range of antique furniture, hand-printed bedlinen and pillows, arts, collectibles and more. Info 082 553 8641 or [email protected]
Adventure
Be adventurous and go (kite) surfing, snorkeling or Scuba diving (not for beginners) or hiking.
Kayak Paternoster Tours introduces you to kayaking as a doorway or a gateway that enables a passing into a reflective state. Call Ian on 082 584 1907 or email [email protected] to book your water adventure.
How about flying a kite or just hanging out and watching the dolphins surfing the waves from what appears to be an endless beach? Don't get splashed away while watching the waves!
Lighthouse Tour at Cape Columbine Nature Reserve
The Columbine Nature Reserve with the well-known Tietiesbaai (find out here where the name derives from) offers many hiking paths.

Ever wondered how high the last manned lighthouse of South Africa is and how many steps are leading to the top? Yes, then you'll be in for a lighthouse tour with Japie or Wayne, the lighthouse keepers (SA Lighthouse Company). Tel 022 752 2705
Gambling
Visit Club Mykonos in Langebaan and try your luck in the casino! Especially when you get a taste for winning at a variety of 300 slot machines to choose from or try your luck on Blackjack, Roulette and Poker tables (open 7 days a week).