Farr Out Activities
Relax your soul and spend some time in the specifically from Germany imported garden beach wicker baskets which shelter perfectly from the wind. Read a tome or chill in peace and look out over the dunes in the distance for an hour or ten ...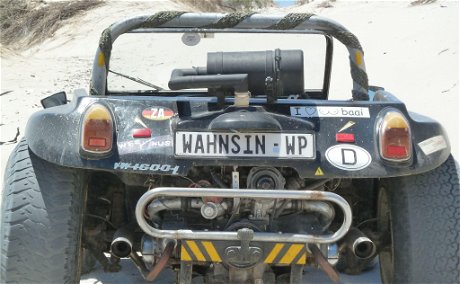 Beach Buggy Fynbos Safari
Beach Buggy might be an Oldtimer but not too old to have lots of fun with!
The self-built Beach Buggy is by now an icon of Paternoster. Deon Van Schalkwyk, also a qualified tour guide, likes to share his adventures with some others. Sometimes he is even lucky to watch playful dolphins and whales in the ocean or Duiker, Steenbok, Secretary Bird, tortoises, snakes and more on terra-firma.
Deon starts his tailor-made tours at Farr Out Guesthouse at the outskirts of the village, gives away a little bit of the interesting history of Paternoster before he goes through thick sand and dunes along the dirt tracks of Paternoster bay over to Duikereiland. Please note the Beach Buggy is NOT a 4X4, but be surprised where this vehicle is able to take you!
You may get stuck… bot don't worry, there is always a way out!
West Coast Dunes stroll - Beach Buggy Fynbos Safari
Join Deon for a Beach Buggy ride along the dunes from Paternoster to Duikereiland and experience some kind of adrenalin rush on the sand tracks with a little wind in your hair.
Taste the Fynbos, get the stories of the Portuguese Explorers along. You might be lucky to see some whales and dolphins frolicking in the bay.
Be mesmerized by the fishermen's colourfully painted "bakkies"( boats) going out to sea in the early mornings.
The Lisboa, a Portuguese twin screw steel steamship, ran aground on Soldiers Reef near Paternoster  in 1910. This event was the first occasion on the South African coast in which a radio telegraphy was utilized to summon help by a ship in distress.
Approx. 2 hours, max 3 person, price on request
Tour Guide
Deon van Schalkwyk is a THETA (Tourism, Hospitality and Sport Education and Training Authority) accredited Tour Guide and has a good knowledge of the area. Above all he has a deep-rooted love for the Beach Buggy and is an enthusiastic 4X4 driver. This he prides himself on and would love to share his experiences and passion with you to tell all Paternoster tales.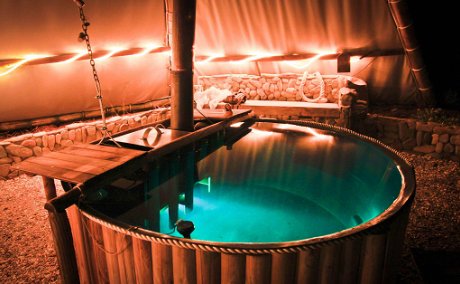 Wood-fired Hot Tub
The Outdoor wood-fired Hot Tub is the perfect alternative to a conventional Jacuzzi. With no noises from any pumps running you can enjoy a silent evening in the bushveld listening to the sounds of nature such as nightjar, owls and more. You might even be lucky and get some visitors while hanging out in the tub: steenbokkies do rather often their rounds and peak in.
If you more into astrology and/or astronomy this is a stunning way of doing star gazing in a different way. While you are counting all the stars, your stress level will lower accordingly, it'll calm your soul and also works as back pain relief. Stay in it as long as you like and get only out once skin is growing between your fingers.
And if it happens that you are just on Honeymoon, the Hot Tub is a "must experience" as it is ideal for a unforgettable romantic evening.
Ask for our various Wellness Packages including Simply Bee products. Best to book in advance to avoid disappointment. For Farr Out resident guests only.
The tub is approx. 1.40m deep and 1.70m in diameter, water temperature reaches about 40 degrees. Not advisable if you suffer from high blood pressure. Use at own risk.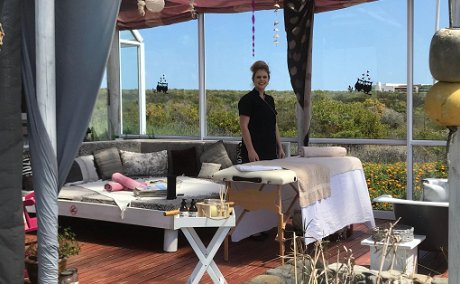 Healing Touch Wellness
Marissa from Healing Touch Mobile Spa is a fully qualified therapist with ITEC, CIDESCO and SAAHSP diplomas.
Grant yourself some "me-time" and pamper and enjoy a relaxing massage. Unwind in the comfort of the guestroom or in nature/scenery which will be transformed into an oasis of tranquillity.
Ask for the "menu" and spoil yourself to an unforgettable wellness experience during your stay.
Massages - Reflexology - Revitalizing back treatments - Body treatments - Facial therapies - Gentlemen's packages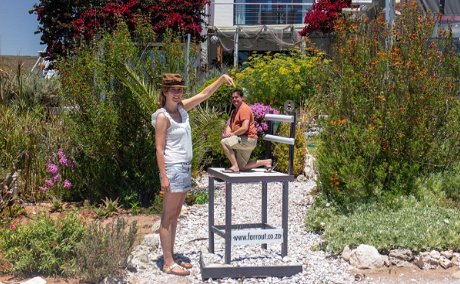 Illusion Chair
Once you stroll through our landscaped garden you might come across some weird obstacles and wonder what it is. It's meant to be like this as you should find our super-chair yourself.
And remember…it's all about illusion!!!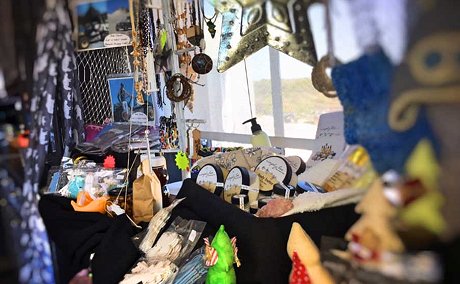 Arts and Crafts in mini-shop on site
Bird lovers can purchase famous birdfeeders at Farr Out Guesthouse. The feeders are up-cycled products: "All Gold Tomatoes'" bottles collected at recycling places and cleaned at Farr Out for the final touch (wirework and unique sprayed caps).

Sit on the veranda and watch the birds in very close distance. It's just amazing how many different kind of birds drink from the bottle, ie little sunbird, Cape Malachite, bulbul, Cape White Eye and also the weaver birds love the sweet drink ...

Souvenirs manufactured or produced in the area can be purchased at our mini-shop. Latest edition are the products of "Simply Bee": various honeys, hand-/body lotion, lip balm, facial products and more. Come and browse…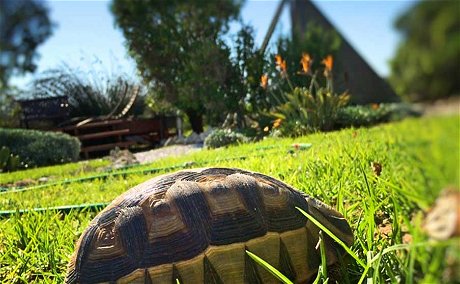 Small Five at Farr Out
Most probably you'll wake up by the call of the Francolins early in the morning. Just get up and check it out. With a little bit of luck you might even spot on of our "Little Five": Mongoose, tortoise, Francolin, hare and duiker.

For the late risers we do have the reliable Kois: always there and most of the time hungry.
Farr Out is surrounded by open farm land. Go for a stroll and hike in southerly direction. Don't forget to turn around: wooww you'll be amazed by the view onto Paternoster!

Back at Farr Out enjoy a sundowner on your terrace. Close your eyes and listen to the frog concert completely free of charge. Nature pure!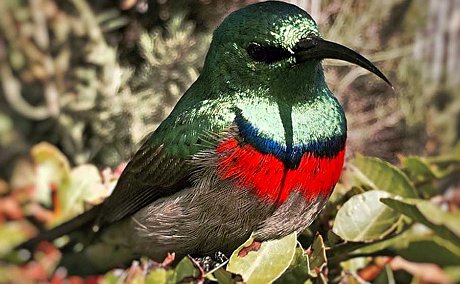 Bird Life
Watch the variety of birds and get to know them.

It is a bird lovers' paradise with more than 225 different type of species such as: Cape Wagtail, Fiscal Shrike, European Starling, Red Bishop, Pied Kingfisher, Palm Swift, Cape Turtle Dove, Rock Pigeon, Greater Ketrel, Pygmy Falcon, Steppe Buzzard, Helmeted Guineafowl, Secretarybird, Spotted Dikkop, Korhaan, Crowned Plover, Egyptian Goose, Bokmakierie, Grey Heron, Blackeyed Bulbul, Yelloweyed Canary, Cape Weaver, Cape White-Eye, Malachite Sunbird, Lesser Double collared Sunbird, Barn Owl, Cape Spotted Owl, ....
Let us know which bird you discovered!